Or the "how I spend all my money left to my favorite idol shop (you know which one) because tomorrow is my last day T0T"

So as I don't know if they've been post already because I'm not following Arashi news right now (still haven't seen the Happiness PV because the computer is protected and I can't install Flash so I can't use Youtube or Dailymotion or whatever!) but the pics of the 30th August concert have been released (the day after actually) and of course I bought the ones of the second concert *0*

So here is all I've bought today (found the very first fan communication paper... for 2000Y T0T)




I was amazed to find the Typhoon Generation concert pamphlet oO (and you know they're actually selling the newspaper where it was announced that Arashi was created????? IT WAS 4500Y!!!!! oO *dies*) And the How's it going pamphlet actually talks XD Must record it later X3

Then here are the pictures of Jun's birthday presents (forgot to say that he also had sunglasses with integrated hearphones X3)




BTW, this is the entrance of the said before wonderful shop of your dreams where you'll loose all your money!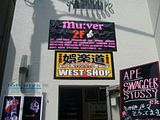 Then while going to the station for Asakasa, in Harajuku, we saw the HAPPINESS bus, playing the song!!!




Then went back to Asakasa to take good pics of YamaTaro green slope (gave up on the house because we didn't have anymore time)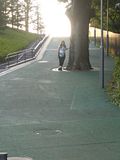 Then we went to TBS to search the shop, there are actually no goods for YamaTaro *sob* (I asked) but there were HYD goods (I've bought a Tsukushi phone strap XDDDDD There were also dangos) aaaaaaaaaand.... YOU CAN FIND THE SATURN NECKLACE HERE!!!!!

.... but they were out of stock T________T But I saw the ads ne, it was 38000Y oO (no wonder it's the real one, must be a precious stone in it). So if you go to Japan, and are wishing to buy it, just go to the TBS center and pray that they have it. Or else, order in it on the internet T_T
Then we stayed at the TBS coffee (there was the TBS mag for free, with an interview of Nino and Sho X3333 I NEED A SCANNER WHEN I COME BACK!!!!!!) and went back to the hotel.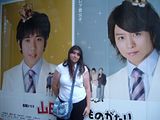 That's it for today minna, I have to.... pack all my stuff T_____________________T I DON'T WANT TOOOOOOOOOOOOOOOO!!!!