It has been confirmed today that
Kyoko Fukada
has been cast in the role of the vilain
Doronjo
in the upcoming movie adaptation Yatterman.
ROOOFL no Angelina Jolie anymore XD
Source:
innolife.net
日本の美女スター深田恭子が、『ヤッターマン』のドロンジョ役にキャスティングされた。映
画『ヤッターマン』は、1970年代に旋風的な人気を集めた三池崇史監督が実写化する
作品。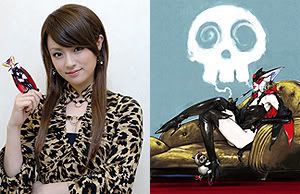 Source Eiga.com
See also:
Sho cast announcement
Saki Fukuda cast announcement
AMLSJKDFLKASJFDLKJ
That will make two "Fukada-san" on the set and for interviews.. kinda an upcoming headache XDDD
Ok it's Fuk
U
da Saki ASLKFA%KFD%, seriously I have a vision problem XDDD (thanks
yuckie_chan
dear <3)
Ah but I'm happy, Fukada Kyoko is really a famous and popular actress, so more focus for the movie... and for Sho! \o/ Well I'm not that familiar with her filmography but that's a pretty sexy image she's going to have to show up here! XD Kyoko also played with Nino in
Minami-kun no Koibito
.
... I still want to see Sho-chan in the Yatterman outfit!!!!!
and I still want a Yatterman Official movie figurine to display next to my computer screen X33333
Edit:
The remaining villains have also
been announced
. They're
Katsyhisa Namase
as Boyacky and
Kendo Kobayashi
as Tonzler.
Thanks
hermiana
for the tip <3