Sorry minna-san, don't be disapointed, CAN'T BE LUCKY EVERYTIME OK XDDDD

But you know... THIS POST WILL BE MAJOR FANGIRL CRACK!!! And I don't regret it one bit!

So all started, as you know yesterday, when Michelle popuped up right to tell me as soon as Nino wrote in his Nikki about being at Charles de Gaulle in France, heading to Spain. So as soon as I read that, I started getting really high (OMG OMGGGGGGGG NINO IS IN FRANCE AGAIN <33333333), and started thinking really fast.
First, called Amandine to ask her if she could manage to get to Charles de Gaulle airport because she's the closest I know, but as it seemed impossible (besides, Nino was in the transit zone, no way she could get near him), we checked all the flights from Narita to CDG Paris, and the ones from CDG Paris to Barcelona (assuming that Nino was going to the Sitges thingy, and aslo assuming that if he had to change plane in Paris for Spain, it was that he was heading to Barcelona, not Madrid, because he could have taken a direct Nartia>Madrid flight instead... but once again, all guessing).
After screaming to my mum "NINO IS IN PARIIIIIIIIIIIIS!!! HE'S GOING TO SPAIIIIIIIIIIIIIIIN!!!!" and more screaming to Michelle, and trying to picture what the hell was Nino doing in Spain and where he would really be, I decided this (that's why it's nuts XDDDD):

I have nothing to lose, it takes approximatively 4 or 5 hours for me to reach Spain by car, I'm assuming right now it's Barcelona or Sitges, but not sure, but maybe, by the time we reach Spain, more infos would have popuped up so we'll be on place to know where to look. SO LET'S GO!!!!!!!

That's approximatively what I said to Jennifer when she finished work, and I said "Are you ready to do this?" >>> "Of course, LET'S GO! PACK YOUR STUFF, I'M PICKING YOU IN 15 MINUTES!"

XDDDDD

*more crazy screamings to Michelle*

I could only afford a day in Spain, because I was skipping a day from work, and I couldn't afford 2, so we put it all on that day (which was, yesterday).

So I called Nathalie who we could come and pick up in Toulouse on the way to Barcelona, and Jen came pick me like this *still text-messaging Michelle like crazy and all my friends, and reading everybody crazy comments on my entry XDDDD*
(Jennifer is really sick of Sakurap in "We can make it!" because it's my text-message ringtone and it was ringing every 2 minutes XD)
We also made Natahalie bought us food, drinks, oil for the car, print map to Sitges, reserve hotel at Sitges, and other mad stuff XDDDD.
On our way, we stopped at a station to buy some survival stuffs, including a car battery charger for our phones or it wouldn't survive, and I needed badly to be in contact with Michelle and Hermiana for any news poping up!!!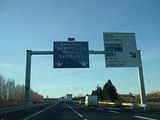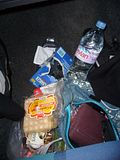 *very high spirits*

Then we totally took the wrong direction for Toulouse (because we needed to pick up Nathalie) and ended up near the France/Spain border; NO WAY WE'RE ALREADY THERE!!! We missed the exit!!!! So we called in emergency Nathalie so she took the train to Perpignan which was really near, and headed to the train station where we waited 2 hours and I spend... one hour and a half trying to post to LJ through my phone XDDDDD *totally needs to download a WAP LJ messaging system XDDDD*

Then we picked her and headed directly to Spain! w00t!!! FIRST TIME IN SPAIN!!!! \o/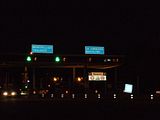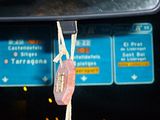 We reserved the hotel in Sitges, which is 40km away at the South West of Barcelona but.... GETTING YOUR WAY AROUND BARCELONA IS A T O T A L M I N D F U C K!!!!!! There's like, 7 highway at the same time, names of road not written on the map, we spend one hour driving around, tooking all the wrong directions possible, I think we passed the same Toll road 4 times in 15 minutes XDDDDDD
We finally stopped somewhere and asked a guy, hopefully Jennifer can speack Spanish, and Nathalie a little too (I totally suck at ti, I only can say "Buenos Dias" and "Gracias" T0T Even if it wasn't difficult to read descriptions as Spanish and French are so closed languages), but the guy was speacking total Catalan, so they nearly didn't understand what he was saying, but hopefully got the meaning of where we needed to go.

*more high spirits and getting crazier (don't mind Jennifer randomly singing "100000€", I don't understand it myself XDDDD)*

SO FINALLY, we found Sitges (say it "Sihthrrrrrrrrrrès" *still totally suck at Spannish*), which is a gorgeous city, seems quite for famous people, like Monaca and Nice if you asked me.
We headed for the hotel, throwned our stuff and went outside (IT WAS 1:00AM!!! How the hell are we going to find Nino!!! If he's here, he's sleeping (even with jetlag) or in his room playing Dragon Quest IV!!!!! XDDDDDD). As still no news had poped up (and I couldn't access internet in Spain due to some WAP configuration issues or something), and we had no clue of where to look at, we just did the fangirls, laughing at ourselves, me waving my TIME concert Nino Uchiwa, and sometimes calling "NINOOOOOO DOKOOOOOOOOOOOO????", and walked around. But it was really really beautiful, we could see the stars so clearly and the Mediterranean sea was super calm and dark, with no lights of boats ahead, like I'm so used to see from where I live. And there was some kind of old city in the city, with very pretty streets and churches. I also saw an advertising for the Sitges Film Festival... from last year... and it said again it was in October... NINO WHY ARE YOU IN SPAIN IT DRIVES ME NUTS!!! look what I am doing XD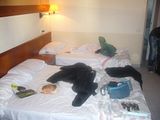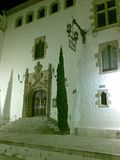 Then we went back to the hotel, text-messaged Michelle again, and went to sleep (WITH PHONE ON OF COURSE IN CASE OF CRAZY INFO POPING UP IN THE NIGHT T0T Nino, update your Nikki more often, KTHXBYE!!!)
On Saturday, we tried to make the more time we could before going back to France. I asked infos about the film festival but was told it was over (as I could tell), so we gave up on Sitges and decided to put it all on Barcelona. If the info of Nino leaving today would arrive, we would head for the airport, if not, we would try famous places in Barcelona, like Nino did in Paris when he went to Versailles, in the tiny little chance that we would bump into him (which is... 0,0000001% of chance XDDD)
That's when we thought really hard "DAMN IT NINO!!! UPDATE YOUR NIKKI!!!!!!"
We put oil in the car (GOOD CAR!!! Jennifer called it "Shimuken Girl" <3 XDDDD), me watching over our too-quickly-packed-bags.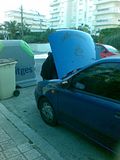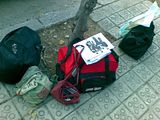 And we headed for Barcelona. Still text-messaging Michelle, Hermiana and Amandine, and we were already on fangirl crack, but as there was no news about Nino, we started making weird scenarios out of fun to find him, or things like "WE'LL MAKE AN OHCHAN BANNER SAYING "WE GOT RIIDA" SO HE WILL COME RIGHT AWAY" and other crazy fangirl talk (I didn't have internet at this time, so I couldn't read your even more crazier comments XDDDDDD LOVE YOU ALL <33333333333333)


w00t!!! BARCELONA!!!! GREAAAAAAAAAAT ARCHITECTURElike Nino said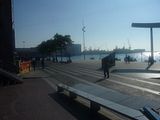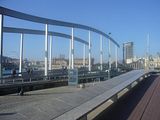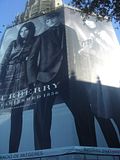 We headed for a big touristic venue, ALL THE TIME SEARCHING FOR JAPANESE PEOPLE (especially one little guy called Ninomiya Kazunari), EVEN IN THE TAXIS!!! XDDDD
We ended in this street filled with what I call "human art", it was quite amusing and impressive at the same time!!!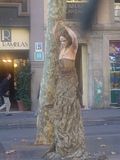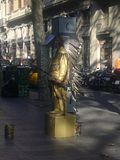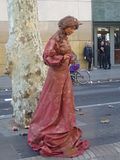 At one point, I saw an Asian looking guy, in a black suit, and crazilly thought "MAYBE IT'S NINO'S MANAGER" XDDDD Well errrr... it wasn't XDDD
Then as we took advantage of being here anyway to visit for ourselves too, we headed to the Sagrada Familia which is a MUST SEE! Yes Nino, BEAUTIFUL ARCHITECTURE IN SPAIN @#=£$%!!
It's enormous and VERY impressive, you're wondering how the hell the towers up there are standing!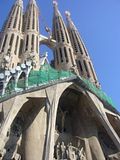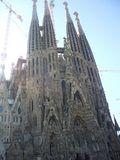 Lots of Asian people here! We even found a shop with this at the front: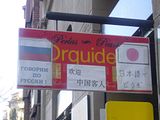 NIHONGO DE DOUZO?????? WE SPEACK JAPANESE???? Nathalie and I looked at eachothers and decided to go inside and to ask, in Japanese, if they saw Nino XDDDD (showing the TIME Arashi clearfile)
- Excuse me, have you seen this person?
- *very Japanese reaction, not even surprised that a non Asian looking person is speacking Japanese, and asking for a Japanese idol who, how the hell would he be in Spain?* Hum... Today?
- Yes today
- Hum, I didn't saw him, I really don't know
- Well thank you very much *sob sob*
(I don't know if you realise the enormity of the situation XD)


We walked around again, saw "Ohno" on the way SO NINO IS NOT FAR XDDDD and took a picture with Shimuken pretty lion oooh beautiful Architecture in Spain NE NINO @%ù£^*µ!§²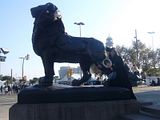 Then it was time for us to leave, still no Nino in sight (for an award, for a photoshoot, for a TV Show, for a CM?????????????? (Yamapi went to France just for an ice-cream ad ne!)), and headed to McD (because me wants to try all the foreign McD to taste the difference XD)

yuckie_chan!!! TOTALLY THOUGHT OF YOU <3333333333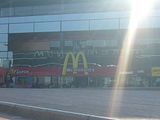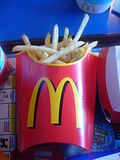 Then we stopped at a shop to bring back stuff for family and friends (mainly food, YUMMY ALL THE STUFF WE DON'T HAVE IN FRANCE T0T *wanted to bring everything back*), that's when Michelle text-messaged me about "Nino + OH IT'S COLD + BEAUTIFUL ARCHITECTURE" CAN'T YOU TELL WHAT YOU'RE HERE FOR AND WHERE YOU ARE???? T____________________________________T Waited all day for your bloody Nikki update!!!! STILL LOVE YOU THOUGH NINO-CHAN X3333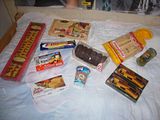 And then we were back to France, i could access my mails again, got a heartattack when I saw the number of comment notifications XDDDD (LOVE YOU ALL <33333) We ate at Nathalie's parents place then Jennifer and I went back in our town (kinda lost our way in Aigues-Mortes, but saw its beautiful castle by night BEAUTIFUL ARCHITECTURE IN FRANCE TOO NINO!!!! XDDDDD).

So even if, OBVIOUSLY, I would have loved to meet Nino, I don't regret one bit all of this, this was TOTAL fangirl fun, we enjoyed ourselves so much, and we visited too! Thank you so much Jennifer for being as crazy as me, thank you Nathalie for dealing with us and being a crazy fangirl too, thank you Jennifer's car Shimuken girl for kipping up the long road even if you're old, thank you soooooooooooo so much Michelle for keeping up with me through all this crazy journey (ROOOOOFL and ZLOLOLOL @ crazy comments XDDDD And as you said "THANK YOU FOR THE MADNESS" (and if you're wondering, it's when I went to Paris that I only brought one panties XDD Because I didn't have time to go to the hotel, so I brought no luguages XD)), thank you to dearies Hermiana and Amandine for keeping in touch too, so sorry everyone if you got disappointed, but I wish you all to have such a crazy Arashi journey (and hopefully end up meeting Nino XDDDDD)

This is the crazy journey MAP(click for bigger size):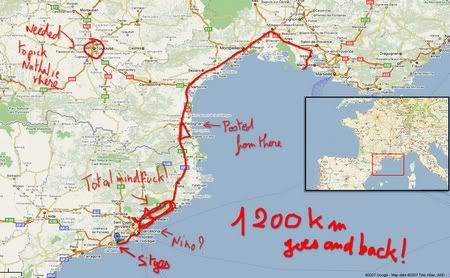 Oh Nino, the things you'll make me do XD


So as for now, we know Nino is STILL in Spain, so
tenjostyle,
matsubunny dears, and all your friends, if you have the possibility to check Barcelona, as he's the most likely to be there (EVEN IF IT'S NOT COLD!!! What is he saying? Is he in Pyrenees or what??? XDDDD) and the airport, maybe, you'll never know!!!! WANT HIM TO SEE EUROPEAN FANS!!!!!

We're... TOTALLY WRITTING A MAIL TO NINO THIS WEEK XD

I'm totally exhausted, and I'm going to bed, BUENA NOCE!!! <3

EDIT: NINOOOOOOOOOOOO!!!! SO YOU'RE IN BARCELONA!!! AND YOU WENT TO THE SAGRADA FAMILIA!!!!!!!!!

AND I COMPLETELY MISSED YOU T_______________T *bags head against the wall*

Crap, I was in the right place but not at the right time T0T

Source: here at
sumoboy LJ.

This would be total crack if he then went to the shop where we asked for him, because it's right next to the Sagrada Familia:

Nino: Hi, I would like to buy this even if apparently I have no money on me
Japanese lady seller: Oh you know, some girls were looking for you yesterday!

*crack*

edit 2: Nathalie has also wrote her report on here blog (it's half French, half English), even if she hasn't finished it yet, there are more crazy details XDDDDD